Diamond Gift Pack
Regular price
$27.50 AUD
Sale price
$15.00 AUD
Unit price
per
Our diamond weave material is a revolutionary weave of organic cotton. The lightest 100% cotton weave in the world, our diamond bags replace single use plastic or paper bags and also nylon or recycled PET bags on the market. The chemical properties of cheaply made plastic bags are not only detrimental to the fresh produce held in it, but also to your health and have a long term impact on the earth.
The Keepers unique diamond weave fabric stretches in both directions, allowing plenty of room for your produce and yet the fold or scrunch into a small size. These perfect little bags fit in your tote or handbag.
This set includes 7 diamond bags, allowing you to buy and then store many different types and sizes of fresh produce, as you can see in the pictures.
Plus we have added our newly developed organic cotton nut milk bag in the pack. Our nut milk bag has been thoroughly tested as one of the best on the market and is of course made from 100% Organic Cotton. 
This gift pack of diamond bags packaged in recycled cotton paper makes a wonderful gift.

Specifications
1 Set of Diamond Drawstring Bags 4-Pack
1 x Large Drawstring Bag: 26 x 36cm

1 x Medium Drawstring Bag: 16 x 26cm

2 x Small Drawstring Bags: 13 x 16cm
1 Set of Diamond Carry Bags 3-Pack
3 x Diamond Carry Bags: 30 x 50cm
1 x Nut Milk Bag: 25 x 30cm
More Info on Different Weaves

We have three main weaves in the Keeper range of produce bags plus our unique Jute-Cotton weave and some other specialty weaves.

For more information on our different weaves see our info page.

Diamond Weave: Diamond is our signature style of organic cotton weave and unique to The Keeper. Lighter than mesh or muslin yet stretchy and strong, just like you after a few serious yoga sessions! 

Mesh Weave: Mesh is a traditional weave for produce bags. The large, loose weave allows visability and lots of air flow.

Muslin Weave: Another traditional weave, muslin is one of the oldest weaves. This tight, dense weave is perfect for root veggies or bulk foods.
Share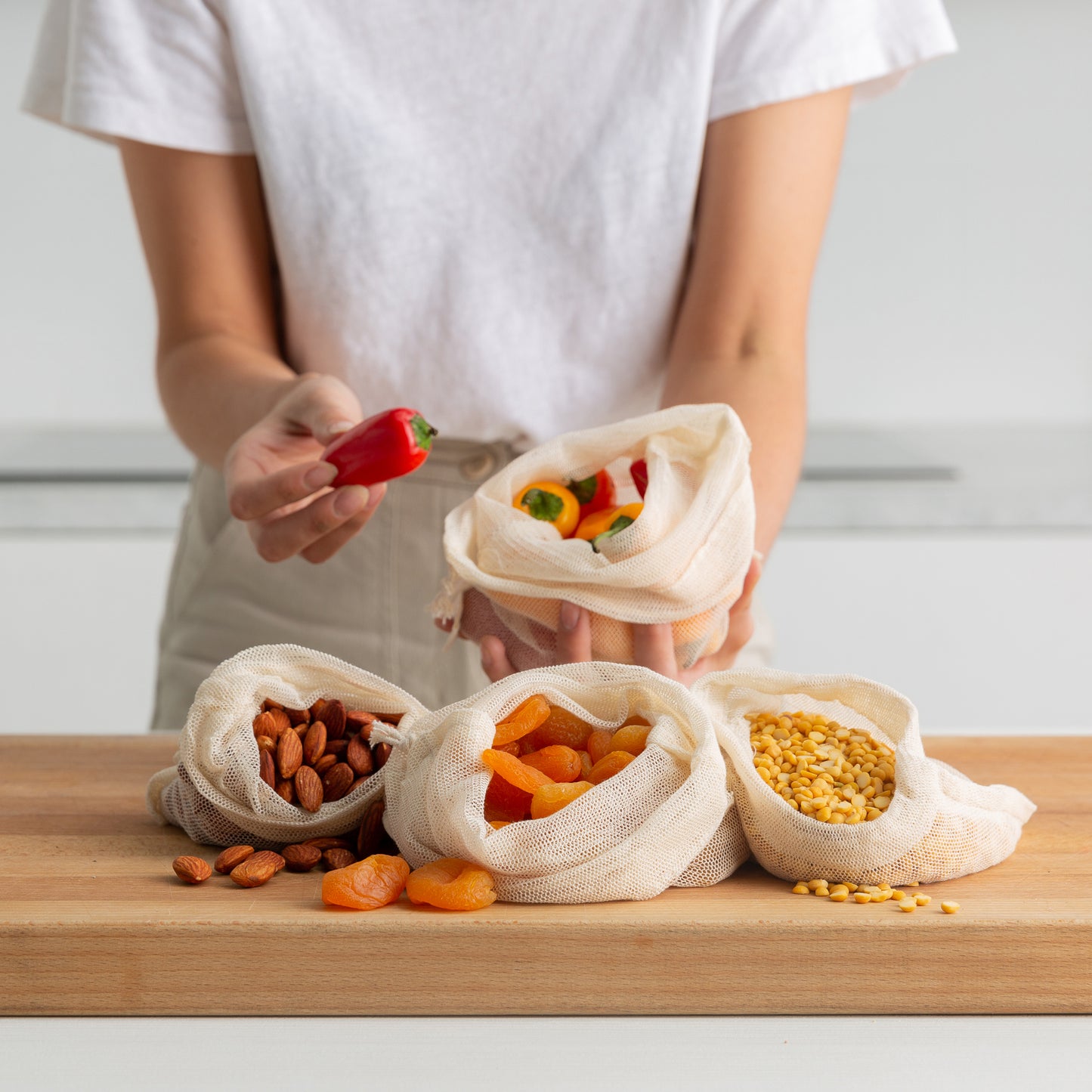 Beautiful natural
These products are beautifully made and environmentally friendly just love them
Aussie owned; great innovation
I saw these advertised; liked them, but naaaaa as I try to buy Australian owned (and made, where possible). Well, to my great surprise, the company is Aussie (Melbourne), so I read more about their products. Sounded great, so I ordered the gift bag. It came quickly, and to my delight, they are great...light, versatile, and just what I wanted. Thanks "The Keeper'. I will be buying more.