Heart Cotton Wipes 5-Pack
Regular price
Sale price
$11.95 AUD
Unit price
per
These beautiful little hand woven face wipes have just enough texture to easily remove make up and to gently exfoliate.
Tip: use a little coconut oil as a make up remover when using as a make up remover. 

Once you have used all 5 wipes pop them in the bag to wash on a cold cycle in the washing machine or wash individually by hand.
Made with love and by hand there will be slight natural variations. Enjoy with an open heart.
Cold hand or machine wash.
We recommend using natural detergents.
Specifications
5 x Small Heart Cloths: 3.5 x 3.5cm / 1.4" x 1.4"
1 x Mesh Bag: 13 x 14cm
More Info on Different Weaves

We have three main weaves in the Keeper range of produce bags plus our unique Jute-Cotton weave and some other specialty weaves.

For more information on our different weaves see our info page.

Diamond Weave: Diamond is our signature style of organic cotton weave and unique to The Keeper. Lighter than mesh or muslin yet stretchy and strong, just like you after a few serious yoga sessions! 

Mesh Weave: Mesh is a traditional weave for produce bags. The large, loose weave allows visability and lots of air flow.

Muslin Weave: Another traditional weave, muslin is one of the oldest weaves. This tight, dense weave is perfect for root veggies or bulk foods.
Share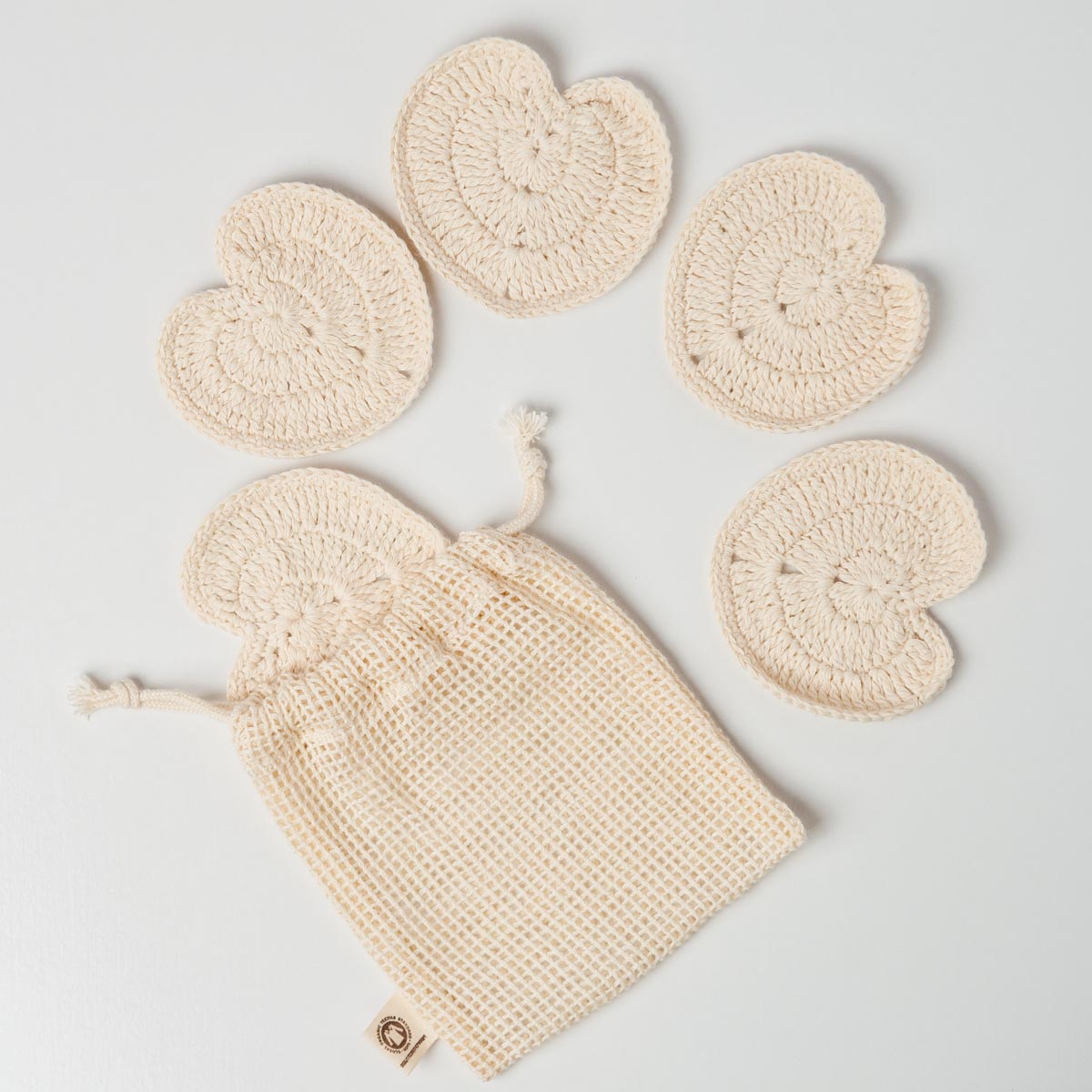 Heart wipes
Was given a sample one to try, now buying four sets as gifts. Super impressed with this product. Gently exfoliates without any harshness.
Best make up remover I've used.
These are very new to our range and it is great to hear it works so well.
Wishing you peace, wonder and joy
The Keeper Team